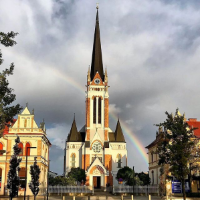 Living: Innovation action plan
1. CRFS vision 2030 and challenge statements

CRFS 2030 vision: Vision of Murska Sobota lab is to become one of the most advanced, digitised rural regions in Europe for food production and supply, based on the cooperation of all actors in the food system. The long-term goal is to bring actors from across the entire agri-food systems together in a Participatory Multi-Actor Approach.
All this is to be supported by:
Data-driven IT platform to collect and use data from all across the food chain to deliver benefits for the society and lead to a more sustainable, resilient and transparent food system with empowered stakeholders who are in the position to take smarter, more sustainable, healthier and more personal food and dietary choices, taking into account data regarding environmental impact, origin, nutrition, safety and integrity.
DIH AGRIFOOD Data Space, providing a secure, sovereign system of agrifood data sharing in which all participants can realise the full value of their data.
2. Collaboration with stakeholders
Murska Sobota Living Lab is based on solid ground of already existing networks built within the DIH AGRIFOOD and Green Point Living Lab, where lots of stakeholders are already involved and working together. By having the City of Murska Sobota active in the Living Lab, we have also covered the policy part, where regional and national stakeholders are joining the initiative to discuss future strategies of the Food system.
Collaboration is done under the scope of quadruple helix model, with some main actors described below:

By that we have to mention that the Living Lab is promoting responsible research and innovation, with the active participation of multi-stakeholders process within the R&D process, where interdisciplinary knowledge is often searched through different types of organisations (Academia, business support and policy). All workshops are promoting this type of collaboration, with the main goal to attract different types of organisations from different fields of work in order to ensure interdisciplinarity. On the other hand, the Living Lab is also aiming to ensure gender equality, by targeting at least 50% women researchers at each of the workshops included. 
3. Living Lab resources
The Living Lab is based on a fully operated short food supply chain called Green Point. This is why all the necessary resources are already there to be taken. From farmers who are involved in the production phase to the logistics (storage facilities, vans, transportation,…) and up until the retail store, where interaction with consumers (citizens) is taking place. For the implementation of the Cities2030 project and realisation of the blockchain based traceability, we have needed some external expertise on Blockchain services. 
In addition to the Cities2030 project, we are involving projects of the DIH AGRIFOOD network, which are dealing with different topics (digitalization of production and processes, Consumer Engagement, Food loss and waste thematic, etc.). 
4. Living Lab experiments
| | | | | | | | |
| --- | --- | --- | --- | --- | --- | --- | --- |
| Name of the experiment | Description | Baseline | Goal | Cites2030 Objective | Cities2030 Thematic Working Group | Target Group | Duration |
| Traceability of products | Ensure the traceability of products from farmers, with help of blockchain technology. Involve farmers from the regional cooperative into the traceability system. | 0 | 2 (end of 2022) 10 (end of 2023) | Objective Nr.1 | Production, distribution, consumption, security | Farmers, Consumers | From Oct.22 to Oct.23 |
| Restoring the local market within the city | Organising events in the local market in order to ensure the restoration of city market | 0 | 8 (end of September) | Objective Nr.4 | Markets | Farmers, consumers | From May 22 to Oct. 22 |
| Number of farmers selling on the city market | Increase the promotion and attract new farmers/cooperatives to sell at the local city market | 10 | 20 (end of September) | Objective Nr.4, Objective Nr.1 | Markets | Farmers, Consumers | From May 22. To Oct. 22 |
| Food loss and waste marketplace | Establish the marketplace for food loss and waste at Green Point Living Lab | 0 | 1 | Objective Nr.4 | Consumption, Waste | Consumers, Processors | From Jan.23 to Apr.23 |
| Digitalization of farmers | Install IoT equipment at farmer level in order to ensure additional data and monitor of the production | 3 | 5 | Objective Nr. 3 | Production | Producers | From Jan.23 to Jun 23 |
| Promotion of local food | Promotional campaign in social media and regional portals/newspapers | 0 | 1 | Objective Nr.5 | Consumption | Consumers | From May 22. to Oct.22 |
5. Other Living Lab's measures 
Main goal of the Living Lab is to promote the uptake of the local homegrown food and reduction of food loss and waste through the whole supply chain.
6. SMART Goals
10 farmers to be equipped with traceability data of their products. Organise 5 promotional events in order to promote local food. Increase the number of farmers selling in the city market and within the SFSC Green Point by 10%. Implement food loss and waste marketplace and ensure the reduction of food waste by 20% within the Green Point SFSC. Equip at least 5 farmers with digital tools in order to increase efficiency of production. Organise 2 seasonal campaigns for the uptake of local food (online + physical).
7. Communication, dissemination and exploitation
The Living Lab is constantly communicating over different online channels (ITC and MOMS webpage and social media, DIH AGRIFOOD social media and Green Point Living Lab social media). In addition, organisation of different events and workshops is done with the help of regional and national stakeholders. All this is supported by a wide network of the DIH AGRIFOOD and also the regional stakeholder group of MOMS.
8. Continuity- and scale-up measures
Continuity and scale-up measures are done through different aspects: Other EU funded projects from ITC and MOMS. Regional development programme and regional projects. Individual investments from local SMEs (farmers, cooperatives and solutions providers) into digitization processes.
9. Risk assessment
| | | |
| --- | --- | --- |
| Risk | Probability & Severity | Mitigation & Elimination  |
| COVID situation | Medium | COVID can eliminate live events and workshops, which are important aspects for building up the community and interest of citizens. In case of COVID restrictions, we will put more efforts into online campaigns and gamification of different promotional activities. |
| Farmers interest | Medium | Farmers can lose interest in digitalization, due to other problems they are facing at the moment. Lack of personnel, high costs of resources (fertilisers, gas, electricity,…). To mitigate this risk, we will try to attract additional EU or national funds to help subsidise this process for the farmers. |
| City market | High | Since the city market has been struggling for a few years, it is hard to attract citizens back to shop there. There will have to be strong communication support present in form of events and promotional stands in order to attract citizens from supermarkets to the city marketplace. |