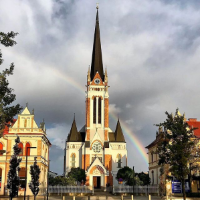 Policy lab action plan
Murska Sobota Vision
The city of Murska Sobota is located in the region of Pomurje, which is the most agricultural region in Slovenia. In some parts of Pomurje, agriculture is still the basis of the economy and represents the countryside's considerable development potential. 
Through cross-sector integration and cooperation with artisans, trade, tourism, the food industry and other stakeholders, it is possible to develop the countryside further, generator development can become a focus on the production of healthy food and food-related activities, especially processing into high-quality products, functional food in connection with health and spa tourism and culinary tourism. In rural areas, where the main activity is agricultural production and food processing, stakeholders can have their own increase competitiveness by developing innovative solutions based on modern high technology farming, with the development of tourism on farms and other forms of rural tourism, and with ecological cultivation, but also by creating new high-quality products and redirecting them to the field of functional food, which connects various aspects of health-related services – agriculture, healthcare, wellness and active tourism in a healthy natural environment.
The production, processing and supply of the region's agri-food products can be economically successful on the market directly through tourist catering, hotel and spa companies (culinary tourism offer of the region) without an intermediary. In order for this kind of connection between different manufacturers of semi-finished products necessary for the final and comprehensive tourist or spa or health product will come to life short local value chains had to be introduced to enable a continuous supply of the necessary quality foods from the local or regional environment for tourism, catering, hotels and spas sector. At the same time, large public or private organizations, such as kindergartens and schools, are also an exceptional opportunity. hospital, large companies with many employees and long-term care providers.
The Vision of the CRFS is targeted and organized organic production (and processing) of vegetables or healthy food as a market opportunity, which as such means a potential source of income for Pomurje farmers and the development of the economy in the countryside in connection with the city of Murska Sobota.
Resources & Context
Stakeholder name
Expertise/skills
Link to CRFS theme
Development centre Murska Sobota
regional development, project management
governance; inclusion; public health
Regional development
network of the Pomurje
region
44 members (national authority - 6; sectoral agency 15; education and research -
5; business support - 6; other - 4, SME - 3; local authority - 5)
governance; inclusion;
Development council of
the Pomurje region
31 members (local authority - 10 municipalities; SME - 10; NVO - 5; sectoral agency - 6)
governance; inclusion;