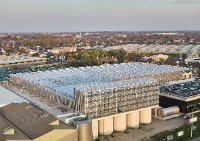 Welcome
In the Agrotopia Living Lab, Inagro works on innovation pathways, from ideas to co-creative validation in a practice-oriented research environment.

We use co-creation processes to develop, test and further improve new greenhouse horticultural technologies and demonstrate installations. The associated technical and practical knowledge helps to implement systems in practice.
The living lab can also explore the possibilities of professional urban farming thanks to Agrotopia's unique location on the roof of the warehouse of REO Veiling (agricultural auction market) and on the edge of the city of Roeselare (Belgium). This allows to synergize with its surroundings by investigating how the functions of agriculture, industry (e.g. residual heat) and the city are intertwined.
Right from the start, we actively involve growers and other stakeholders in the innovation process with working groups, brainstorming sessions, demonstrations and workshops. At the same time, you can always rely on our multidisciplinary team and our extensive experience in greenhouse horticulture. This immediately ensures that the innovation is right for the target group, which in turn improves the market introduction.
Our co-creative approach was rewarded with European recognition. The European Network of Living Labs (ENOLL) recognized Agrotopia as a Living Lab in 2020. The ENOLL defines living labs as user-oriented and real-life innovation environments where new solutions arise through co-creation in research and innovation, with the involvement of different stakeholders. The end user is central. As an ENOLL member, Agrotopia applies those principles.