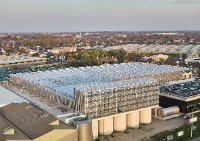 Welcome
In the Agrotopia Living Lab, Inagro works on innovation pathways, from ideas to co-creative validation in a practice-oriented research environment.
Inagro is based in Belgium close to the city of Rosslare which is a Belgian city and municipality in the Flemish province of West Flanders. The municipality comprises the city of Roeselare proper and the towns of Beveren, Oekene and Rumbeke.

Rosalare municipality comprises an area of approximately 59 square kilometers and has a total population of 62.000 people. Inagro is the knowledge partner of agricultural and horticultural businesses in the areas of innovation and sustainability. Within its own optimized professional research infrastructure, Inagro's scientific and technical teams devise farming and cultivation techniques ready for
practical use. Our partners in these endeavours are universities, university colleges and businesses. Inagro's advisers take the new know-how to the agricultural and horticultural businesses and guide the businesses in how to implement these insights, all of which is supported
with professional communication tools. Geographically speaking Inagro is located in the very intensive and innovation-driven agricultural and horticultural heart of the province of West Flanders in Belgium.
Inagro is finalizing Agrotopia, an inspiring research rooftop greenhouse of approximately 9000 m2 where co-creation and demonstration will stimulate innovations to address the challenges the greenhouse horticulture and high technological urban farming sector is facing. Read more on what Agrotopia can do for your agribusiness. Approximately 6000 m2 will be dedicated to soilless cultivation of leafy and fruit vegetables, allowing to develop best practices for hydroponic systems. The rooftop greenhouse integrates 3 functions: research, demonstration and
communication towards the growers and the general public and, a living lab.
We use co-creation processes to develop, test and further improve new greenhouse horticultural technologies and demonstrate installations. The associated technical and practical knowledge helps to implement systems in practice.
The living lab can also explore the possibilities of professional urban farming thanks to Agrotopia's unique location on the roof of the warehouse of REO Veiling (agricultural auction market) and on the edge of the city of Roeselare (Belgium). This allows to synergize with its surroundings by investigating how the functions of agriculture, industry (e.g. residual heat) and the city are intertwined.
Right from the start, we actively involve growers and other stakeholders in the innovation process with working groups, brainstorming sessions, demonstrations and workshops. At the same time, you can always rely on our multidisciplinary team and our extensive experience in greenhouse horticulture. This immediately ensures that the innovation is right for the target group, which in turn improves the market introduction.

The greenhouse has been designed to maximize integration and use of resources from the city environment such as energy and water. Residual energy for heating is delivered by a cogeneration installation that primarily serves the warehouse of the agricultural auction market. Residual heat will also be supplied by the city waste incinerator which is located close to the city, at a short distance from the Agrotopia site. Additional research will be performed to close the circles of waste streams and energy as much as possible.
Approximately 6000 m2 will be dedicated to soilless cultivation of leafy and fruit vegetables, allowing to develop best practices for hydroponic systems. Five compartments for the cultivation of fruit vegetables are separated by a technical corridor from 5 compartments for leafy vegetables. In addition, new innovative systems will be tested and/or demonstrated. Several compartments will be equipped with LED artificial lighting. Double energy screens and Ventilation Jets will be installed to gain experience with the principle of Next Generation Growing to save energy. Attention will be paid as well to integrated pest management practices and the reuse of waste nutrient solutions to close the water loop.
Not only will we gain experience in vertical farming in rooftop greenhouses and the challenges associated with the construction of a rooftop greenhouse, other forms of vertical farming are addressed as well. A 12 m high vertical compartment will allow to explore the potential of growing vegetables along high walls in the city and of maximizing the cultivation area in greenhouses. In addition, one compartment will be equipped to explore multilayer indoor growing with artificial lighting.

The greenhouse will be open to the growers and the general public. Via public corridors people will be able to see the technologies applied and demonstrated in the greenhouse compartments or our expo zone. The close proximity of Agrotopia to the agricultural auction market constitutes a unique opportunity to demonstrate best practices and innovative techniques or installations in the greenhouse to growers and to support on-farm implementation.
Agrotopia's interest and expectation from Cities2030 collaboration is knowledge exchange on technological living labs and experience on greenhouse horticulture as part of the food production system and professional urban farming. The initial idea and focus of the pilot is to co-create to innovate the Agrotopia living lab. Living labs are user-centered, open innovation ecosystems based on systematic user co-creation approach, integrating research and innovation processes in real life communities and settings (as defined by ENOLL, the European Network of Living Labs). The location of the rooftop greenhouse next to the agricultural auction market, where vegetable growers and buyers meet on a daily basis, offers a unique opportunity towards interactions. It will allow researchers, growers, technology providers and knowledge institutions to meet and collaborate.
In the Agrotopia living lab we can involve end users and greenhouse horticulture experts via the set-up of co-creation groups. Throughout the innovation process, from the early phase of exploring, to testing and/or validating. For this we can build on our extensive experience in
greenhouse horticulture and use a range of tools including brainstorm sessions and workshops. In addition, the greenhouse infrastructure allows real life testing and co-creative validation. This can speed up the innovation process and target new products to its end users and the market.
Altogether, Agrotopia will constitute an inspiring research environment, resulting in innovative solutions for high technological greenhouse horticulture and urban farming. The infrastructure will be operational September 2021.
Our co-creative approach was rewarded with European recognition. The European Network of Living Labs (ENOLL) recognized Agrotopia as a Living Lab in 2020. The ENOLL defines living labs as user-oriented and real-life innovation environments where new solutions arise through co-creation in research and innovation, with the involvement of different stakeholders. The end user is central. As an ENOLL member, Agrotopia applies those principles.