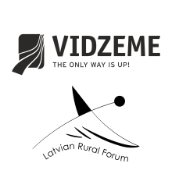 Innovation frameworks
 Innovation frameworks for CRFS
 Diverse innovations with impact on food systems were identified in Vidzeme and Latvia. For the Cities2030 project, 6 innovations were chose that offere space for an exchange of ideas and solutions from different perspectives, as well as innovations that have an impact on production, processing and waste management.
 
Bioeconomy Forum
In Latvia bioeconomy is defined as one of the national smart specialization domains. It has also been identified as a field of undoubted development growth potential for Vidzeme region, therefore bioeconomy has been assigned the role of a driving force for the regional development. Vidzeme region has large forest resources, however bioeconomy covers many fields – food production, agriculture, forestry and wood industry, chemical and pharmaceutical industries, energetics and energy efficiency, construction, information and communications technologies (ICT), health sector, etc. In 2019 and 2021 Vidzeme Planning Region has organized Bioeconomy Forums with focus on sustainable food production and technologies, promoting food innovations in the region. The aim of the forum is to get acquainted with bioeconomy trends in Europe and in the world, opportunities and challenges of local governments, private companies and research institutes in bioeconomy development efforts, as well as examples of innovative bio-based products and services from different European countries. Vidzeme Planning Region has been aware of the impact of the Bioeconomy Forums of the region and will continue to organize such events in upcoming years. 
Vidzeme Planning Region brings foreign knowledge in the food bioeconomy to the region. The forum is intended to motivate managers and owners of small and medium-sized enterprises in Vidzeme region, start-up and young entrepreneurs, scientists, the Planning Region Administration and top-level decision makers of local governments to participate in bioeconomy development and food innovations in the region. 
The idea of the Bioeconomy Forum is easily transferable to the other region. 
More information: Vidzeme Planning Region, www.vidzeme.lv
     
Transnational food innovation hackathons 
 
The aim is to support the food enterprises of different Baltic Sea Region countries in generation and development of innovative approaches (products and technologies) in food production and marketing. Food  system strength depends on the strength of its main stakeholders - food processing enterprises. The measures implemented promoted increase of production and marketing capacity of the involved companies. Hackathon approach for mature food processing enterprises - experiences and lessons learnt. More information:  biobord.eu. 
Food Bioeconomy Cluster 
Latvian food bioeconomy cluster helps to increase capacity of region's food producers and processors that is significant for region's economy. It aims to promote the sustainable production, processing and consumption of healthy, high-quality, and safe food. Cluster develops knowledge-based food bioeconomic innovations, as well promote scientific and industrial cooperation both locally and internationally.
The cluster strengthens food producers and processors knowledge-based capacity to produce qualitative food for the benefit of the food sector what helps to develop one of main regions' economics sectors, as well to ensure qualitative food for the inhabitants. Cluster is bringing high level knowledge to the region, encouraging innovation in the food sector.
Cluster is developing the internationalization of the cluster and its members - to promote international cooperation with clusters and related institutions operating in the field of bioeconomic and food production and processing industries, as well as food and bioeconomic innovation initiatives, cooperation networks, platforms and consortia, science parks, business incubators and innovation centers in the Europe and globally.
More information: https://www.linkedin.com/company/latvian-high-added-value-and-healthy-food-cluster

Sporta pils dārzi - gardens and meadows in the center or Riga
Sporta pils dārzi is a project organized by the citizens of Riga with an aim to open the former sport complex territory in the capital of Latvia – Riga that is inactive and put it to public use. 
The area between the four streets had been abandoned and fenced off for 13 years. The owners of the quarter are a company whose plans to develop the territory into a residential quarter were slowed down by the financial crisis of 2008. While preparations are underway for construction, the owners have agreed to make the site available for temporary use free of charge for a period of three years. The gardens of the Sports Palace in Riga are one of the first precedents of this scale, when a private entrepreneur temporarily devotes his property to a public function. During the territory's development stage between 2020 and 2023, the gardens hosting different cultural and educational activities in its flowery meadows and offer private urban gardening spaces for rent. About 150 garden spaces are created using gardening boxes of different sizes and heights that are easily accessible for everyone including people with disabilities, children and seniors. Wildflower meadows and recreational zones are located in the central part of the territory and available for events and community activities.
The project's intention is to encourage the citizens of Riga to take an active part in the city's development and improvement and to create the place and time for promoting a healthier and more sustainable lifestyle and offer a possibility for an educational and contemporary leisure time. Innovations offered a solution for the transformation of derelict urban areas into gardens and meadows.
More information: Sporta pils darzi, https://sportapilsdarzi.lv/lv/about
 
Straw panels 
The company SIA Seno tehnologiju produce constructional material - straw panels from rye straw. Rye straw is dense, hard and fibrous, not used for fodder, only for litter. Shredding and incorporating straw into the soil requires large resources. The company developed a technology that processes straw into straw panels. Straw panels are a solution that combines simple natural materials - straw, wood and clay - allows natural-friendly construction without losing aesthetic and microclimate properties. Buildings are original and energy-efficient.

Straw panel buildings can be seen in all regions of Latvia. Using the ancestral methods, company rationally uses food crops based on principles of circular economy.
More information: "STP Seno tehnologiju parks", https://salmumaja.lv/

From waste to food
LtD Getliņi EKO is a company jointly established by the two municipalities, which manages the largest municipal solid waste landfill in the Baltic States. In the landfill of Getliņi EKO biodegradable waste has been used for production of biogas, meanwhile materials and metal products useful for processing have been delivered to companies engaged in the recovery and recycling of these materials.
The landfill gas produced in the cells is transferred to the Getliņi power unit, then burned in six internal combustion engines and converted into energy – electricity and heat. The electricity is sold to energy company and the heat is used in SIA Getliņi EKO greenhouses, where Getliņi tomatoes, cucumbers and hanging flowers are grown. Modern greenhouses that are 5.5 m high and span a total area of 11,412 m2 are built in the territory of SIA Getliņi EKO landfill. Greenhouse plants occupy an area of 10,512 m2 and amount to 25,000 seedlings planted. Annually, SIA Getliņi EKO produces about 500 tonnes of tomatoes. 
The greenhouses are equipped with climate control facilities which provide the conditions necessary for growing plants. Cultivated plants are grown in mineral wool and hung in planting beds which are positioned 70 cm above the ground level. This ensures that the cultivated plants do not come into contact with the ground. The pollination of tomato plants is ensured by colonies of bumblebees which are placed in the greenhouse as soon as the first bunch of plants blossoms. 
Innovation provides modern, safe and efficient municipal solid waste management and disposal, as well as electricity generation. The investments that have been made in waste management and electricity generation showed their effectiveness, financial returns and positive impact on the environment.
Location: Stopiņi Parish, Latvia
Source: SIA Getliņi EKO, https://www.getlini.lv/en