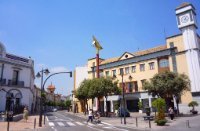 Living: Information
1 CRFS-LL  general introduction
Quart de Poblet CRFS Living Labs will be implemented in the municipality with the collaboration of Cities2030 Spanish partners: SINNO (P19), a nonprofit organisation that aims to serve as a catalyst between technology and society by encouraging the collaboration of different actors in the development of products that improve the quality of life of citizens; and UPM (P20), through the Research Group "Network Engineering and Advanced Telecommunication Services Group".
The territorial scope of the labs will be mainly the city of Quart de Poblet. Taking into account the dimension of the municipality and the fact that its territory is part of the province of Valencia, the territory covered by the labs is open to the whole province. This is also explained by the fact that Quart de Poblet does not have an independent food system. 
Quart de Poblet is a municipality of 19,6 KM2 located in the metropolitan area of Valencia, therefore, it is part of the urban belt or periphery of the city of Valencia. The municipality has more than 24.000 inhabitants and its territory is divided into a residential urban district, an industrial zone, a natural park through which the river Túria flows and land protected as non-developable agricultural land.
Food production


 Quart de Poblet had traditionally been a mainly agricultural town, which experienced the process typical of towns near a large city, with uncontrolled population growth and industrial settlements. Currently, 1073,1 hectares constitute agricultural land in the municipality. Less than half of this land is cultivated and exploited. Regarding land tenure, most of the land is privately owned. The main problem identified is unproductive and abandoned land, which is also protected from urbanization.
 In order to address this problem, in 2019, the City Council of Quart de Poblet enabled a 150 m2 area in the Túria river park located in the core of the municipality, for its use, exploitation and maintenance as leisure and learning eco-gardens for citizens. The aim of this initiative is to promote environmental education, encourage citizen participation and sustainable development, as well as to get to know with direct contact the different traditional and native orchard species. Nevertheless, it is still an issue to be addressed and it will be raised in the Cities2030 labs.
Food industry

Quart de Poblet is a city that has been highly industrialized. At present, there are about 40 businesses dedicated to the production of bread and pastries, dairy products, processed meats, beers, cocoa products, nuts and beverages. Besides that, there are 40 warehouses and distributors of food products.
Regarding the marketing phase of the food supply chain, food products are available throughout the entire municipality, where there are more than 250 small local businesses and supermarkets that commercialize food products, mainly eggs, meats, bread and bakery, fruits and vegetables, etc. We also find more than 140 bars and restaurants.
The relationships between these actors are unknown, as well as the traceability of food products. Better understanding of Quart de Poblet CRFS and specifically the food supply chain and mapping and identifying the different agents and stakeholders is essential for Quart de Poblet. Shortening the supply chain  is another of the issues that will be raised in the Cities2030 labs.
Food consumption

As previously mentioned, the availability of food is covered in the city of Quart de Poblet. However, another of the dimensions of food security, that is, economic access to food is not a strength of Quart de Poblet CRFS. Occasional initiatives have been taken by the local government, especially actions aimed at mitigating food poverty: 
Assistance to families who cannot afford basic necessities, through vouchers, cards, subsidies, etc.
Establishment of soup kitchens.
Dairy products and benefits for breast-feeding mothers.
Home care for the elderly and sick persons, including shopping and cooking support.
In addition to this, food waste and unhealthy and unsustainable consumption habits continue to be an unresolved issue. Promoting a healthy and sustainable diet, as well as reducing food waste by encouraging more environmentally friendly consumption patterns and habits, will be key objectives of the Cities2030 labs.
Food waste/reuse
Finally, reference should be made to the waste treatment plant that collects and manages the waste from Quart de Poblet. This entity has a plant in Quart de Poblet where it produces compost from organic waste and markets it to local farmers.
Setting up CRFS Labs
It should be noted that Quart de Poblet will develop two different Living Labs. On the one hand, we will act on the supply side of products, i.e. a stable working group focused on farmers, companies in the food sector, local trade, etc. On the other hand, a Living Lab will focus on the food demand side, i.e. on the citizens. By changing eating patterns and habits, we could transform the food system. If citizens are aware of the importance of consuming local, healthy and sustainable products, they would change their consumption habits and consequently, the food offering available on the market. 
Having presented an overview of the Quart de Poblet CRFS, it is appropriate to establish the people to be involved in CRFS labs and the priorities to be put on the table for discussion:
One of the Living Labs of Quart de Poblet aims to identify and involve the owners of unproductive land, farmers in the municipality and unemployed students of an agricultural workshop offered by the employment centre of the municipality in order to co-create innovative solutions to make use of abandoned land, cultivate and exploit it, generating a short local supply chain, through which farmers can sell their products directly in the municipality. In short, these will be the key topics of the Living lab: #MadeInQuart #Km0 #LocalFood
The second Living Lab has the priority of developing a sustainable food culture and skills in order to change the consumption patterns and habits by promoting healthy and sustainable diets and reducing food waste. The key topics on the side of the demand of food will be #SustainableFood #HealthyFood #ResponsibleConsumption. To this end, Quart de Poblet will identify and engage citizens, nutritionists, local restaurants, school teachers, etc.
Quart de Poblet Living Labs will be based in Qworking room, a municipal open, dynamic and flexible space located in QJove, a building dedicated to the young people of Quart de Poblet. In addition, the exchange of information, debate, learning, analysis, etc. will take place through the Cities2030 Community Platform and it will be registered and monitored through the MAA Tool in order to assess the strengths and representativeness of the stakeholders and in order to facilitate decision making in the CRFS & Social Space of Quart de Poblet .
 
2. CRFS-LL communication & dissemination plan 
The City Council of Quart de Poblet has a specialised Press Office with an official website of the municipality, social media profiles and a wide network of local and regional press, as well as participation in several local radio programmes. This Press Office is headed by Lucía Guirado, who has an extensive experience as a local journalist, specialising in EU news. Her work has focused on bringing Europe closer to citizens through different communication channels.
The implemented communication and dissemination activities were as follows:
TARGET GROUP: STAKEHOLDERS
EVENTS
PUBLICATIONS
-Valencia Digital Summit 2021: The European Projects department of Quart de Poblet, Quart ès Europa, attended as exhibitors at the Digital Summit event where we promoted the Cities2030 project with the other exhibitors and attendees at the event.
-Drafting press releases on Cities 2030 project approval, activities and events, progress, etc., and publishing them in local and regional press
-Social media posts on the approval of the project, its activities, events and progress (Facebook, Instagram and Twitter)
-Creation of graphic and audiovisual content to promote the Cities2030 project (brochures, calendars, videos, flyers, etc.)
TARGET GROUP: GENERAL PUBLIC
EVENTS
PUBLICATIONS
-Communication campaign of the Cities2030 project. Through the event "Fireta de Nadal", aimed at children, we carried out a dissemination campaign, where we raffled two bicycles and to win them their parents had to follow our account @quarteseuropa, share in their social networks our publication, using the hashtags #Cities2030, #AlimentacionSotenible
-Participation in the local eco-fair stand to promote the Cities2030 project among citizens, and distributing calendars indicating seasonal fruits and vegetables with healthy recipes, to promote a healthy and sustainable diet.
-Drafting press releases on Cities 2030 project approval, activities and events, progress, etc., and publishing them in local and regional press
-Social media posts on the approval of the project, its activities, events and progress (Facebook, Instagram and Twitter)
-Creation of graphic and audiovisual content to promote the Cities2030 project (brochures, calendars, videos, flyers, etc.)
Quart de Poblet's plans for the next months are continuing communication and dissemination activities both through online media and on-site events, with specific activities dedicated to Cities2030 stakeholders.  In addition to the online publications targeted to the general public about the project activities and aimed at promoting sustainable food.