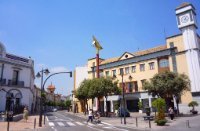 Welcome page
Main lab's objectives
The main objective of Quart de Poblet lab is to increase the national and international
promotion and relevance of the Valencia's ecological agriculture and local commerce.
How Quart de Poblet thinks to achieve this objective?
To do that, the City council desires to define new promotion policies.
Variables to monitor: 
The CRFS of Quart de Poblet is the Valencia CRFS.
They are interested in monitoring the promotion and users' opinion of the local commerce and
ecological agriculture, but also, they need generic statistical data to decide the most suitable
promotion policies to be implemented.
Initially, the variables we have identified Quart is interested into are:
General population distribution (age and sex) in Valencia Region
Incomes distribution in Valencia Region (social development)
Land cover. The percentage of land dedicated to agriculture, and ecological agriculture, as well as other economic activities.
Distribution of economic activities (commerce, construction, etc.)
The intensity of the promotion done in social networks. The impact the implemented policies is having. They are interested in knowing how many times the (Valencia/Quart) local commerce and ecological agriculture is referred. If they do it in a positive, neutral or negative way. If there is correlation between positive (negative) opinions and the geographical area, age, date, etc.
The intensity with their local products (probably ecological) are referred in text and, mainly, photos.