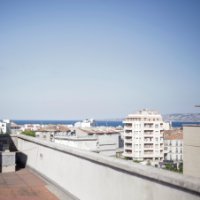 Welcome Page
City of Marseille
Marseille is the second largest city in France (860 000 inh.), geographically characterized by a massive urban sprawl and a strong presence of natural aera right next to the City (National Park of Calanques). Since the 60s, the city is living an economic crisis (desintrutrialization, harbour), that led to a strong social crisis dealing with weak public policies to face it. The city is fractured between a "poor" North (40% of people living under the poverty line in 5 districts) and a "rich" South. 

Food Business in Marseille
Marseille's region is traditionnally a region of fruits and vegetables production and was self-sufficiant in the 1950s. Today, Marseille's food autonomy is 2,22% (UTOPIES, 2018). 90% of the local production is dedicated to exportation, whereas 90% of what is consumed is imported (Chambre d'Agriculture 13, diagnostic PAT). Marseille still have a great potential for a local production both in terms of pedoclimatical conditions but also in terms of available land (around 230ha, CA13 + CITAG, 2018). The city itself is also characterized by huge disparities in terms of access to sustainable food (geographical and economical access) with multiple urban food deserts localized in the north of the city. 
CITAG observed a strong mobilization among civil society and economic development about sustainable food and agriculture subjects in the last few years. In 2019, we identified 333 initiatives inside the city connected to the agroecological transition (retail, comunity gardens, restaurants, NGO's, urban farming etc...). 
Marseille already signed the MUFPP.